6 Great Sheet Music Titles to Play on Synthesizer/Keyboard
The synthesizer is a crucial part of 21st century music but how did it become so important? Its story begins in the 1950s, when the first ever synthesizer, a machine that can electronically create and modify sounds, was created. Throughout the next few decades, this electronic instrument evolved into a much more advanced tool.
The beauty of this electronic machine is that it creates sound waves that an artist can then modify in many ways. For example, they can modify the duration, frequency or timbre of the wave to create a whole new sound. This makes the synthesizer much more versatile than any conventional instrument.
We've put together a list of six great sheet music titles for you to play on either synthesizer or keyboard. Let's get started!
▶️ Discover our pieces for synthesizer/keyboard
1. Running Up That Hill by Kate Bush
▶️ Play Running Up That Hill by Kate Bush on synthesizer/keyboard
Kate Bush is a highly influential British singer, thanks to her creative art rock and style. She was interested in music from a young age and at 14, began writing her own songs. In 1978 she released her first hit, Wuthering Heights, a song she wrote herself.
Her 1985 hit Running Up That Hill was a creative masterpiece, as she was inspired by the use of the Fairlight CMI digital synthesizer. The song is about making a deal with God - a man and a woman are struggling to understand one another so they make a deal to switch places to have a better understanding of the other person's point of view.
In 2022, the singer agreed to the song being used in the hit Netflix series Stranger Things. Thanks to this, a new generation of fans fell in love with the synthesizer song, much to the delight of Kate Bush, an avid fan of the series.
Perform the song Running Up That Hill with Tomplay on synthesizer or keyboard. It is set at an intermediate level and includes the backing track. This is by far one of the best synthesizer songs ever made!
2. Forever Young by Alphaville
▶️ Play Forever Young by Alphaville on synthesizer/keyboard
In the history of synthesizers, the 1980s was an important decade thanks to the release of MIDI (Musical Instrument Digital Interface) and Yamaha's digital synthesizer DX7. One such piece from this crucial period was Forever Young by the German synth-pop group Alphaville. The synth-pop genre is music that uses a synthesizer as the main form of instrumentation.
Forever Young was part of the band's 1984 album of the same name. Although the song didn't take off immediately, it became very famous after appearing on several TV shows. The lyrics celebrate youth, but they also have a darker side about the fear of growing old and dying. The haunting introduction of this hit is played on the synthesizer, making it a fantastic song to play on the synthesizer or keyboard.
Perform the awesome 80s synthesizer song Forever Young with Tomplay. It is set at an easy to intermediate level and includes the backing track of the other instruments and vocals.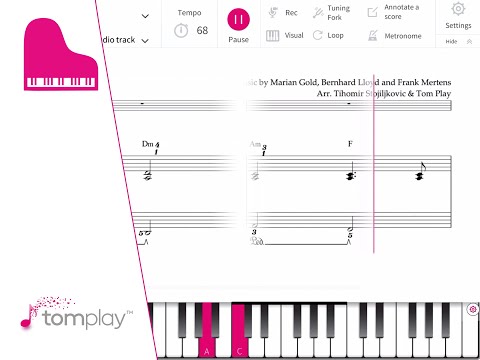 3. Faded by Alan Walker
▶️ Play Faded by Alan Walker on synthesizer/keyboard
When we think of synthesizer music, we often think of old school music. However, there are plenty of modern tunes that utilise a synthesizer or keyboard. For example, the song Faded by British-Norwegian DJ Alan Walker, released at the end of 2015.
He originally released an instrumental work titled Fade in 2014, before revamping the piece by adding vocals performed by Norwegian singer Iselin Solheim. This version also differs from the original due to the piano being used as an intro and outro to the song. Thanks to this revamp, the synthesizer song became an international hit. It has a much more modern sound and is a great example of electronic dance music (EDM).
Play the Tomplay arrangement of Faded by Alan Walker on the synthesizer or keyboard. You can mute the different tracks (e.g. synthesizer, accompaniment, vocals) or even try some improv using the TomImprov score.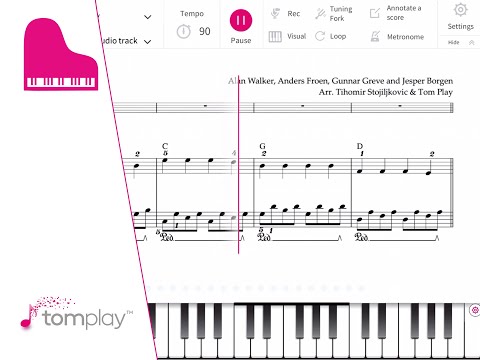 4. It Ain't Over 'til It's Over by Lenny Kravitz
▶️ Play It Ain't Over 'til It's Over by Lenny Kravitz on synthesizer/keyboard
Lenny Kravitz is a talented musician - he not only sings, but he can play several instruments including the piano/keyboards, guitar, bass and drums! His songs cover a whole variety of styles including rock, blues and psychedelic music.
He wrote the song It Ain't Over 'til It's Over in 1991 at a time when his marriage to actress Lisa Bonet was falling apart - this keyboard song was his attempt to fix things. Sadly it didn't work, as the pair divorced two years later. Fun fact: On the recording of this song, Kravitz played every instrument bar two of them (strings + horns)!
In terms of a keyboard song, it is more subtle than other pieces of the time. The keyboard part provides a gentle backdrop of luscious chords while Kravitz's vocals soar over it and the other instruments.
Our arrangement for It Ain't Over 'til It's Over is set at an intermediate level. You can play it on the keyboard or synthesizer, accompanied by the high-quality backing track.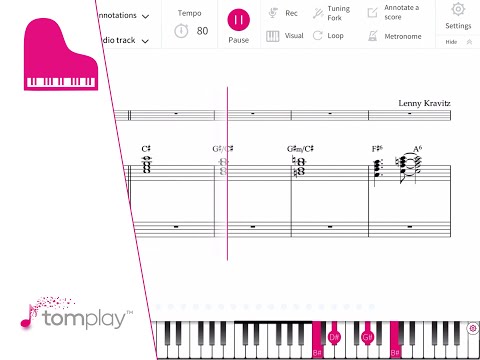 5. Envole-moi by Jean-Jacques Goldman
▶️ Play Envole-moi by Jean-Jacques Goldman on synthesizer/keyboard
Jean-Jacques Goldman is an iconic French singer and songwriter from the 1980s. He wrote and performed many unforgettable popular French songs and was an icon for several generations of fans. He is regularly voted as France's favourite celebrity thanks to his humbleness, his generosity, and of course, his music.
In 1984 he released his third solo album Positif, with Envole-moi as the first track. In an interview with Goldman in 2003, he explained the story behind this song - it's about a young boy asking for help so that he can get out of his negative environment and into a better life through whatever means necessary. This hit is synthesizer-heavy, making it a classic French song with synthesizer.
With Tomplay you can play Envole-moi on synthesizer or keyboard, accompanied by the music. The piece is set at an intermediate level.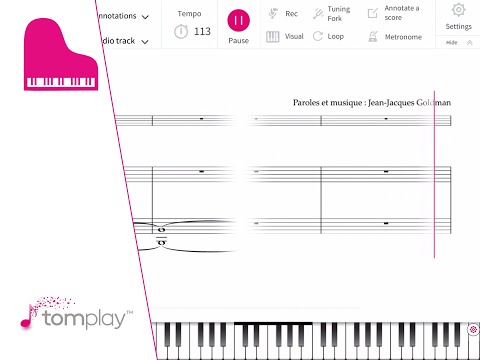 6. Last Train to London by Electric Light Orchestra
▶️ Play Last Train to London by Electric Light Orchestra on synthesizer/keyboard
Electric Light Orchestra (ELO) is an English rock group that has been performing since 1970. Its musical style is a unique mix of pop, classical and futuristic sounds. These sounds are achieved through the use of synthesizers - the group began replacing some instruments with synthesizers and keyboards in the 70s and 80s, when synthesizer music was a growing trend.
In 1979, the band released its eighth studio album Discovery. Both synthesizers and keyboards were used as instrumentation on the album, which included the track Last Train to London. The lyrics of this song are about the band's frequent train trips between Birmingham and London.
The song opens with a funky riff on synthesizer that continues throughout the piece. Thanks to the syncopated beat and disco-feel, this is a great song to play on the synthesizer or keyboard.
Take Tomplay for a ride with the Last Train to London! It is set at an intermediate level and includes a high-quality recording of the band for you to play along with.